Locate Nearby Ambulance Services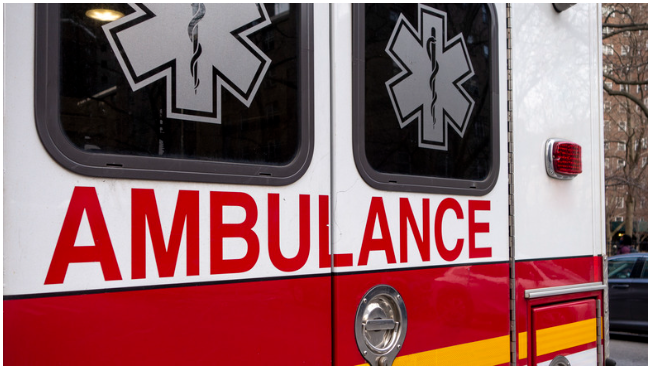 Locate Nearby Ambulance Services:
Ensuring access to healthcare services, including ambulance services, is primarily the responsibility of the State Governments as public health and hospitals fall under their jurisdiction. However, to strengthen healthcare systems and address the critical need for ambulance services, the National Health Mission (NHM) extends technical and financial support to States/UTs.
The NHM supports various ambulance services such as Dial-108, Dial-102 (Advance Life Support and Basic Life Support ambulances) based on the proposals submitted by the States/UTs in their Programme Implementation Plans (PIPs). This support is provided within the overall resource allocation of each State/UT.
It is important to note that the data specifically related to the number of deaths caused by the unavailability of ambulance services during emergencies, particularly in rural areas, is not centrally maintained. However, the NHM strives to enhance the capacity and accessibility of ambulance services, addressing the urgent healthcare needs of the population.
The number of Dial-108, Dial-102 ambulances, and empanelled vehicles supported under NHM/NRHM (a sub-mission of NHM) varies across states and has been subject to changes over the past three years. The allocation of resources and implementation of ambulance services are determined by the individual states. The following data provides a state-wise breakdown of the supported ambulances and empanelled vehicles during the last three years and the current year:
[State-wise data of Dial-108, Dial-102 ambulances, and empanelled vehicles supported under NHM/NRHM]
The NHM continues to collaborate with the states to strengthen ambulance services, ensuring timely and effective healthcare delivery to those in need.
Ambulances Operational under NHM (as on March 2015)

Sl.no.

State/UTs

Dial 108

Dial 102/104

Other patients transport vehicle (empaneled)

Total Ambulance under NHM

1

Bihar

50

792

94

936

2

Chhattisgarh

238

300

0

538

3

Himachal Pradesh

183

125

0

308

4

Jammu & Kashmir

0

331

0

331

5

Jharkhand

0

0

2438

2438

6

Madhya Pradesh

604

0

940

1544

7

Orissa

420

346

60

826

8

Rajasthan

464

400

0

864

9

Uttar Pradesh

988

1964

0

2952

10

Uttarakhand

139

109

0

248

11

Arunachal Pradesh

0

0

0

0

12

Assam

380

316

235

931

13

Manipur

0

40

0

40

14

Meghalaya

42

0

0

42

15

Mizoram

0

60

0

60

16

Nagaland

0

75

0

75

17

Sikkim

0

0

0

0

18

Tripura

0

0

0

0

19

Andhra Pradesh

433

0

275

708

20

Goa

38

0

0

38

21

Gujarat

406

0

0

406

22

Haryana

0

399

0

399

23

Karnataka

711

0

200

911

24

Kerala

50

0

0

50

25

Maharashtra

937

2754

0

3691

26

Punjab

242

0

0

242

27

Tamil Nadu

704

0

0

704

28

Telangana

319

0

200

519

29

West Bengal

0

0

1802

1802

30

A&N Island

0

1

0

1

31

Chandigarh

0

10

0

10

32

D&N Haveli

0

0

0

0

33

Daman & Diu

3

4

0

7

34

Delhi

0

120

0

120

35

Lakshadweep

0

0

0

0

36

Puducherry

10

1

0

11

All India

7361

8147

6244

21752
Source- MIS report received from States/UTs
Ambulances Operational under NHM (as on March 2016)

Sl.no.

State/UTs

Dial 108

Dial 102/104

Other patients transport vehicle (empaneled)

Total Ambulance under NHM

1

Bihar

49

742

94

885

2

Chhattisgarh

239

300

0

539

3

Himachal Pradesh

195

125

0

320

4

Jammu & Kashmir

0

331

0

331

5

Jharkhand

0

0

2322

2322

6

Madhya Pradesh

606

0

988

1594

7

Orissa

420

455

60

935

8

Rajasthan

741

600

0

1341

9

Uttar Pradesh

988

1964

0

2952

10

Uttarakhand

139

109

0

248

11

Arunachal Pradesh

0

0

0

0

12

Assam

380

316

235

931

13

Manipur

0

43

0

43

14

Meghalaya

42

0

0

42

15

Mizoram

0

60

0

60

16

Nagaland

0

75

0

75

17

Sikkim

0

0

0

0

18

Tripura

0

0

0

0

19

Andhra Pradesh

439

0

0

439

20

Goa

38

0

0

38

21

Gujarat

406

0

0

406

22

Haryana

0

375

0

375

23

Karnataka

711

0

200

911

24

Kerala

50

0

0

50

25

Maharashtra

937

2674

0

3611

26

Punjab

242

0

0

242

27

Tamil Nadu

704

0

0

704

28

Telangana

316

0

0

316

29

West Bengal

0

0

2300

2300

30

A&N Island

0

1

0

1

31

Chandigarh

6

9

0

15

32

D&N Haveli

0

0

0

0

33

Daman & Diu

3

4

0

7

34

Delhi

0

120

0

120

35

Lakshadweep

0

0

0

0

36

Puducherry

10

1

0

11

All India

7661

8304

6199

22164
Source- MIS report received from States/UTs
Ambulances Operational under NHM (as on March 2017)

Sl.no.

State/UTs

Dial 108

Dial 102/104

Other patients transport vehicle (empaneled)

Total Ambulance under NHM

1

Bihar

10

744

94

848

2

Chhattisgarh

238

359

0

597

3

Himachal Pradesh

199

125

0

324

4

Jammu & Kashmir

0

331

0

331

5

Jharkhand

0

0

2657

2657

6

Madhya Pradesh

606

0

820

1426

7

Orissa

420

475

0

895

8

Rajasthan

637

588

0

1225

9

Uttar Pradesh

1488

2270

0

3758

10

Uttarakhand

139

109

0

248

11

Arunachal Pradesh

0

94

0

94

12

Assam

380

316

235

931

13

Manipur

0

43

0

43

14

Meghalaya

43

0

0

43

15

Mizoram

0

60

0

60

16

Nagaland

0

80

0

80

17

Sikkim

0

0

0

0

18

Tripura

0

0

0

0

19

Andhra Pradesh

439

0

0

439

20

Goa

32

0

4

36

21

Gujarat

406

0

0

406

22

Haryana

0

364

0

364

23

Karnataka

711

0

200

911

24

Kerala

43

6

0

49

25

Maharashtra

937

2674

0

3611

26

Punjab

242

0

0

242

27

Tamil Nadu

755

0

0

755

28

Telangana

316

0

0

316

29

West Bengal

0

0

2664

2664

30

A&N Island

0

1

0

1

31

Chandigarh

6

9

0

15

32

D&N Haveli

0

0

0

0

33

Daman & Diu

3

4

0

7

34

Delhi

0

220

0

220

35

Lakshadweep

0

0

0

0

36

Puducherry

11

0

0

11

All India

8061

8872

6674

23607
Source- MIS report received from States/UTs
Ambulances Operational under NHM [(as on Sept 2017) during 2017-18]
Sl.no.

State/UTs

Dial 108

Dial 102/104

Other patients transport vehicle (empaneled)

Total Ambulance under NHM

1

Bihar

10

799

44

853

2

Chhattisgarh

239

363

0

602

3

Himachal Pradesh

198

126

0

324

4

Jammu & Kashmir

0

331

0

331

5

Jharkhand

0

0

2581

2581

6

Madhya Pradesh

606

739

0

1345

7

Orissa

420

487

0

907

8

Rajasthan

713

586

0

1299

9

Uttar Pradesh

1488

2270

150

3908

10

Uttarakhand

139

109

0

248

11

Arunachal Pradesh

0

123

0

123

12

Assam

380

316

235

931

13

Manipur

0

43

0

43

14

Meghalaya

43

0

0

43

15

Mizoram

0

60

0

60

16

Nagaland

0

80

0

80

17

Sikkim

0

0

0

0

18

Tripura

0

0

0

0

19

Andhra Pradesh

439

0

0

439

20

Goa

37

0

4

41

21

Gujarat

585

0

0

585

22

Haryana

360

0

0

360

23

Karnataka

711

0

200

911

24

Kerala

43

0

0

43

25

Maharashtra

937

2674

0

3611

26

Punjab

242

0

0

242

27

Tamil Nadu

829

0

0

829

28

Telangana

316

0

0

316

29

West Bengal

0

0

2635

2635

30

A&N Island

0

1

0

1

31

Chandigarh

6

9

0

15

32

D&N Haveli

0

0

0

0

33

Daman & Diu

3

4

0

7

34

Delhi

0

265

0

265

35

Lakshadweep

0

0

0

0

36

Puducherry

11

0

0

11

All India

8755

9385

5849

23989
Source- MIS report received from States/UTs