This piece of information refers to patience experience related to Total Knee replacement in Medanta the Medicity Hospital, Gurgaon/Gurugram
People who are planning to go for knee replacement can refer this Questions and Answers. This should give him/her a through idea for this procedure.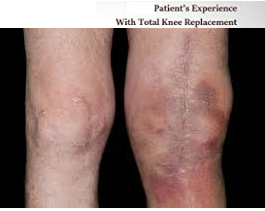 Overall we have had a very positive experience at Medanta. The nurses and doctors are really good and compassionate. My mother was especially impressed with the nurses who took good care of her. She has had multiple surgeries done at different hospitals before but was always dissatisfied by the quality of the nurses.
My mother had earlier had the same operation at Manipal hospital Bangalore for the other knee. The recovery post that operation was very painful and it took a lot of time; she ended up spending about 2 weeks after the operation in the hospital. However, at Medanta not only the recovery was very fast but she also got discharged within 5 days of the operation. Actually she was able to walk few steps with the help of a walker on the 2nd day of the surgery itself. Am not sure whether this happened because of advancement in technology (which seems unlikely since operation at manipal happened only 3 years back) or due to the quality of the doctors.
The hospital in general is very well managed and there is absolutely no detail (like food, attendant stay, entertainment of attendant etc) that they haven't thought and worked upon.
Cons of Medanta
There is an unsaid/unwritten rule at Medanta that no surgery can happen till a clearance is issued by the financial consultant. You have to deposit the money as mentioned by the consultant before the operation or else the clearance will not be issued. Now the strange part is nobody told us about this. We happened to know about this rule through a relative who had to wait for 3 days after getting admitted for the operation to happen. Financial consultant sits in room no. 3 and you can ask them about the estimated cost and should deposit the same pronto.
My mother suffers from acute osteo arthritis in her knee. She was advised total knee replacement by multiple doctors. We decided to get the operation done at Medanta Medicity as some friends have had good experience there for the same operation.
Overall, a very positive experience and I would recommend going to medanta if you are looking to get TKR operation done.
==
One of my friends' mother had both the knee got operated at the same time at Medicity only and She also had nice experience and recovery . the only problem my friend faced is similar to what you have mentioned here related to Money deposit. But overall he highly recommends Medicity for Knee Surgery.
==
Physiotherapy Experience Post surgery
My mother had a 10 days physiotherapy session post her Knee surgery. She recovered very fast with the help of physiotherapist however the only problem was the timings of the physiotherapy session as the physiotherapist was normally very busy so he could hardly reach on time for the session. But yes he has already mentioned this problem at the starting day and used to call if he was getting late so it was ok.
==
My mother got both her knee replaced at Medanta, Gurgaon. The surgery went well and the doctors were also very helpful during the entire treatment. But we faced a lot of trouble on the expenses and administrative front.
We had been asked to arrange two bottles of blood before the surgery. In short span of time we somehow managed to get two friends to donate blood. However Hospital told that they cannot take their blood as they already have enough O positive blood in Blood Bank. And both my friends had O positive blood group. This incident created a lot chaos. If we would have been told this condition in the beginning we could have avoided this.
We had received an approximate estimation cost of the package after examination of my mother. Hospital Staff confirmed that the estimate is inclusive of everything like medicine implants etc. However they denied giving this in writing.
For our surprise bill amount exceeded twenty thousand rupees then the estimated cost. When we reported this issue we were told that my mother needed extra medicine and implants.
We wondered why hospital team cannot give details of all these procedural issues so that we are ready to tackle them better.
==
Can you please tell what was the cost of total knee replacement at Medanta.
==
Total Cost was Rs 236971
The breakup of this was as follows
Miscellaneous Charges- 150000
Consultant Charges - 750
Pharmacy & Medicine Charges - 86221
==
Dear All, can you please name the Doctor who did the operation
==
Knee replacement operation is a lot of work and is generally done by a team of doctors. In my mother's case the main Dr was Dr Rajgopal and his team assisted him in the operation. So on papers the operation has been done by Dr Rajgopal but in reality many of the doctors of his team were involved and the team was managed by Dr Rajgopal.
Now I am not sure whether Dr Rajgopal was in the operation theater or not. However, he did visit my mother in ICU and in the room after the surgery.
==
Dr Rajgopal is indeed one of the best Doctors for Knee, I would also recommend Dr Jitendra Maheshwari, he is also a renowned Doctor , he treated by brother for a complicated Knee Surgery. Dr Maheshwari is ex AIIMs. Also , in case you have cost constraints you can opt for treatment from Dr Rajgopal at Sehgal Nursing Hone , Kailash Colony , New Delhi.
One more piece of advise , but brothers Knee Surgery was complicated by Dr JS Arora at Moolchand Hospital , I would recommend no one to consult MoolChand or Dr JS Arora for Orthopedic issues.
==
I am considering my mother's knee replacement surgery at Medanta medicity Gurgaon. I want to know how long the patient has to stay in the hospital for the entire procedure? How frequently Post surgery follow up happens?
==
My mother got discharged on the 5th day of surgery. So total 5 days stay in the hospital for my mother. Attendant is not allowed to stay with patient as they say that there are chances of infection so they do not allow any attendant after surgery.
Post surgery first they will call after 15 days to cut the stitches .Then after a month for review.
Also there was physiotherapy session ( 10 days) happened for my mother after surgery . Physiotherapist used to visit her at home.
==
Brother u mentioned the cost of Knee Replacement surgery. I would like to know this cost for both the knees or one.
==
The cost mentioned above is for one knee replacement ( 2.369 lakh)
For both knee replacement at Medanta can cost up to 4.5 lakh.
There is one more thread going on cost for both knee in different hospitals, so sharing the link with you. You can check the cost in other famous hospital as well.
==
Request someone to tell me what % of overall cost generally gets covered under insurance. I have a 5 lakh medical insurance which says the following about knee replacement - For Bilateral knee replacement with a maximum capping of 2.5 lakh for the knees implanted + the implant cost would be paid on actuals but with an overall maximum limit of 5 lakh.
==
Total Cost was Rs 236971
The breakup of this was as follows
Miscellaneous Charges- 150000
Consultant Charges - 750
Pharmacy & Medicine Charges - 86221
However, mine was a corporate insurance and I ended up paying only about Rs 5000. It would be best to get in touch with your insurance company to know about the exact amount that will be covered.
If you want to know about other details..feel free to post here
==
do you know how early can I get appointment with Dr. Ashok Rajgopal ?And how early after first consultation can I get knee surgery of both knees done by Dr. Rajgopal. If patient comes from Lucknow to Gurgaon for surgery then what will be her stay in Gurgaon post surgery?
==
how early you can get an appointment keeps on varying. In my mother's case it was only about 2 weeks, but recently when she came for her regular checkup we got a date which was about 1.5 months later.
Best would be to get in touch with Dr Rajgopals secretary, his name is Puneet Puri and his mob is 9810590150. His mobile is generally busy so you will need to try multiple times before you are able to talk to him.
I think you will need to stay for about 15-20 days after the operation before the patient can travel back to Lucknow as there is 10 days of physiotherapy which is done as part of the package.
==
My mother has to go a Knee surgery on 1st week of March 2014 at Medhanta by Dr. Ashok Rajgopal only.I have seen your Total cost which is Rs 2.36 Approx. I have consulted the doctor few days back and they have given the costing of Rs 3.10 Lakh. Could you please speak to me on urgent basis my no. -deleted by moderators-. Else give me your no. so that i can call you.
==
Is this the cost under cashless insurance claim? Generally they have less price for insurance companies that will be applicable to you if you make cashless claim.
Also, I think costs have slightly increase since Oct 2012, that was when my mom had her operation done.
==
I want to know that which technique for knee replacement is used by doctor shree rajgopal ji . Is it nevigation technique ? Which technique is hsed for operation is it nevigation technique or not ?
==
The above info is very helpful. My dad is planned to undergo both knee replacements in a few days.
I had a few questions/concerns:
1. How was the overall experience with Dr. Rajgopal?
2. Whats the complete recovery period - as in, how quickly can he get back to his business?
3. Is age a factor in this surgery? My dad is 73 and wondering if thats too high an age for this procedure. He's got mild BP and High uric acid.
Appreciate a quick response and incase possible, if you could leave me your no. OR call me at 8800 nine one 2111 pls.
==
Overall experience during mom's operation was very good. Dr Rajgopal is very strict but he is very good too. He has specified rules like - attendants cannot stay along with patient in the room post the operation, which seemed harsh to us then but were for the good of the patient. My mom was made to walk a few steps the next day and she was made to climb few stair steps the day after. As compared to her knee operation at Manipal bangalore, she felt far lesser pain post recovery (could be that technology has evolved since)
My mom was able to walk independently with the help of walker after around 15 days. She travelled by train after around 2 months. She had intermittent pain in the operated part for about a year (which the doc said is normal) .
My mother was 67 years old when she got this operation done, I think if the patient is in good health it should be fine. But consult the doctor first as he will be best judge.
Hope this helps. If you have other queries feel free to comment
==
Hi, I am sudheer. My mother is suffering from severe knee pain . I will be thankful to you if you provide me some information.
As you said that you have claimed some insurance , I tried to follow the same to but none of the insurance companies are covering the knee replacement operation. Can you tell me what is the insurance that you are following. As we are economically backward, and I can't afford so much, I am asking you reg. this.
Can we operate two knees at a time or not?
==
Insurance companies typically do not cover already existing illnesses. Also, for the case of knee replacement, they cover the operation cost only if the operation is done 3-4 years after the policy is started.
You can read more about how insurance companies handle knee replacement operations here http://articles.economictimes.indiatimes.com/2009-02-25/news/27635070_1_knee-replacement-national-insurance-insurance-firms
In my mother's case it was a group mediclaim policy provided by TCS so there was no hassle in claim settlement.
You can also post your question on socialfinance.in and this guy (Pankaj) will be able to help you better regarding insurance process (http://www.socialfinance.in)
==
kindly tell me the total cost of both the knee replacement for my mother (50 years age) and percentage of sucessful operation
==
Got knee replacement done for my mother in Indian spinal Institute, Vasant Kunj by Dr. Bhushan Nariani.
We had wonderful experience.
Top notch care and attitude towards patients.
==
thanks for sharing your feedback. Could you pl tell what was the total cost at Indian spinal institute for the operation? Also, it would really benefit all of us if you can share your experience in detail.
==
My mother has to go for both the knee replacement . What is the cost of total package for this operation at medanta ...Does the package include room cost too
==
My father has to go for one knee replacement. We have been consulting a doctor in muzzafernagar for the same. Doctor said that after TKR, person cant fold his legs .. like he/she cant sit on floor by folding the legs .. is it true .. ? is ur mom also facing such kind of issues ?
==
Your Dr is right..even my mother is not able to bend her knee completely...which rules out sitting on the floor or using an indian toilet. In my opinion this is a small cost that you need to pay inorder to be able to do other things like walking, climbing stairs etc without any pain.
· Share on Google+ Share on TwitterShare on Facebook
==
I do not have anything of praise for Dr. Ashok Rajgopal after meeting him, But If i have to abuse anyone he will be top on the list. so decided to see some other doctor. Dr. Nagi of Gangaram answered all the questions politely and was nice and gave time to us. But still need second opinion. In the mean time I have come to know about laser knee surgery also and willing to know who all do laser knee surgery in Delhi. any information on this please share.
==
my mother is currently hospitalised in medanta fot tkr of both her knees. first we went to fortis memorial huda city center but found that it wasnt on panel of the organisation where i work. so decided to consult dr ashok rajgopal at medanta. the surgeon is so busy that he talks less to patients. all the procedure is elaborated by mr Puneet Puri. current estimated cost at medanta for both knees is 475000.
the operatio went good and shel be discharged in a day. a total 7 days. 2 days in icu and 5 in room post surgery.
good experience till now. they asked for two unit blood prior to surgery. i was unable to arrange thus requested the blood bank to provide blood for my mother and well refund it later. they allowed me that i can replace the blood anyday but before discharge of patient. post surgery i found out that blood transfusion wasnt done to my mother. sister said she doesnt require blood as her hb is normal. then they ask for 2 unit blood before operation i wonder?
however i have donated one unit of blood still they havent transfused it to the patient. looks like some vampire scam is going on in here. anyways im leaving it here cuz donating blood is a part of charity and welafre.
il post another review few days later when my mother will be getting physio sessions. till then byeeeeee
==
As I remember Puneet was the one managing patients etc even 3-4 years back. Hope your mother has a speedy recovery. Thanks for sharing your experience.
Will be great to read about your experience with the physiotherapist. I think physio sessions are part of the package only?
==
Which month is best for both Knees surgery. Some people say Winter is better than Summer for TKR. Anyone compared Medanta vs Primus for this surgery. Which is having better technology. Anyone used CGHS + Insurance for payments to this surgery. All of you please kindly share experience.
==
Your posts are really helpful to me. I too am planning knee (both) replacement for my mother. Before visiting this i was not able to know the cost of TKR at medanta however I have a good idea now. I also visited Safdarjung sports injury centre few days back, shall be great if anyone can share his/her experience.
==
people say winter is better because chances of infection are slightly lower. Plus the patient is more comfortable at home even if there is a power cut
==
I am also looking for TKR for my mother. She also heard that in rainy reason it should not be done. Is there a reason? If I have 2 separate insurance plans for a person, can I use both for cashless?
==
Review for Dr. Ashok Rajgopal,
I had a knee surgery in 2010 around June and: 1. I still have pains in the knee that was operated on. Even after following up with him around 6 months after surgery, he told me that time will reduce the pain and nothing can be done at this point. Having done "maximum" number of surgeries does not imply good behavior and success. 2. My family and I found him quite arrogant too. He does not speak like a science representative or medical care professional. When you ask him a question, all he gives you is a ONE worded/ at max a ONE sentence response. He does not give a detailed explanation when you try to get more details. My family consists of medical practitioners who felt disrespected and were surprised to see his demeanor.
==
My mother is 60 years old. She has pain in her joints from quiet some time and recently it has become difficult for her to walk. We are thinking of getting knee replacement surgery for her. We were initially thinking of Fortis hospital, Chandigarh or Apollo from Ludhiana (My family is living in Bathinda, Punjab. So these are the closest options). Then I heard and read about Dr. Ashok Raj Gopal. So can people over here, if they know or heard about it, compare Dr. Ashok Ashok Raj, Medanta, Gurgaon vs Fortis Chandigarh or vs Apollo Ludhiana. Parameters that I want to compare on are: quality of treatment, cost, duration, pre and post surgery appointments/procedures etc etc. So if anyone can help me in this regard that will be really helpful.
==
Thank you for being active on the thread. I am sure this thread must be an eye opener for all people looking for knee transplant. Actally, my grandfather is suffering from acute knee pain. He has water on knee (I don't know the technical name) and has been consulting Dr. Sanjeev Kapoor in Indian Spinal Injury Center. He use to pull out all the water through injection and inject some medicines in the knee. This has been going on for 3-4 years now and now the result is absolutely zero. We are thinking for a knee replacement. Just wanted to know if it is safe to go for a knee replacement at the age of 78. I spoke to Mr. Ravi, secratary to Dr. Rajgopal and he said it would be safe.
==
can you share your experience and process for using CGHS facility at Medanta for TKR.
==
Hello Everyone.. Here are some good Orthopaedic Surgeon in Delhi
Dr. G P Dureja :- Dr Dureja gave me a very patient hearing. An exceedingly high grade professional attitude and treatment. Gracious, courteous and personal attention. He gave me a detailed examination, assessed the pain, listened to the history of the back problems, and advised very safe pain medication.
Dr. Gurinder Bedi :- The Doctor was a pleasant surprise looking at the rushed responses one often gets at a doctors clinic. He was informative, came across as knowledgeable and thorough. Was not pushing unnecessary tests. Doctor Bedi explained everything patiently with exact cure & remedies. Overall it was a helpful session. Impressed with a doctor in these times doing his job. Doctor Bedi explained everything patiently with exact cure & remedies. I would like to recommend his whole team.
Dr. Dhruv Bibra :- The experience with the doctor is very good. He is very polite and tries to understand the problem and suggest relevant medication accordingly. The appointment with the doctor started well on time and the doctor listened to every small pain that is there in the body. He doesn't try to give extra medicine only the medicines that are relevant. Just meeting and speaking to Dr Bibra half of your problem is gone. The doctor was quick to do check-up and write-up prescriptions. Doctor gives ample time for discussion and understand what patient has to say. For any ortho related problem, Doctor should be the one to approach .
Hope it would be helpful to someone
==
I want to get TKR surgery of my leg from DR RAJ GOPAL from Medanta . I have cashless insurance .I am above 60,no diabetes,no blood pressure .Can You please give me likely expenses for the surgery
==
Hi! my mother is 90 years. wanted to know what are the pros and cons of having a knee replacement surgery at that age and a good doctor besides Dr.Rajgopal
==
Here are the peoples review about Orthopedic doctor.
I hope it would be helpful to you in searching the best.
Dr. A. N Malviya at Vasant Kunj : My Mother was suffering from Arthritis. I had consulted so many doctors but nothing effective. Everyone was behind your money Then one of my friend suggested Indian Spinal Injury Center. Here the Doctors are very nice. I went to Dr. Malviya. His fees was 2200, My mother is recovering has lots of improvement. But the bad thing was you have to wait for long waiting period
Dr. Sanjiv KS Marya at Saket : If you searching for an Orthopedic Surgeon then you can go to Dr. SKS Marya Max Hospital, Saket. He is the best in his field. I went him for my mother Knee Replacement. He has been doing Knee Replacement for decades. Till now he has done more than 15000 Joint Replacement Surgeries. You can search his profile on Internet.
Dr. Mathews Varghese at Tis Hazari : Please consult Dr. Mathews Varghese of St. Stephen Hospital, Best Human being and a very good doctor..Smile emoticon.. Operated me for 8.5 Hours and I am walking because of him, Performing with my Rock Band - A Dream come true because of him.
Dr. Ashok Rajgopal at Medanta: Professionally He is very good, But I would never like to be his patient He is not a good person by nature as He even do not even want to talk or discuss anything and rejected my case. Very insensitive person. Though my Wife, Sister, and Father have been his Patient.
==
My mum is 60yrs many doctors recommend for TKR what is the best hospital max. Aiims or Apollo and how much for TKR
==
I am new member here and need to go TKR for my father who is 78 yes old and diabetic. he is not bedridden but having continuous pain in knee. he is scared of operation and feels if op is not successful, how he will be doing his routine daily job
==
My mother in law has got her both knees operated. She is able to lead a comfortable life, though she can't bend her knee completely but she can do all routine work.
==
My mother in law was 65 when she had her operation. Your father is 78 also he is diabetic , you should take second opinion about the Knee replacement because as I understand diabetic case is not simple . You should actually check if surgery is advisable in this age or not. I would request other community member to comment as per their experience. Please do lets know what doctor has to say. Best of luck.
==
Hi all..please suggest.i am from aligarh.my father age 54 having lot of pain in knee.suffering from pain since last over 10 years.some of the doctors told there is gap between knee joint you should go for knee replacement.now we want visit in delhi so suggest a good orthopaedic doctor having experience in TKR so he consult us in good way if there is any need of knee replacement or otherwise..please reply urgent ..thanks in advance.
==
My wife needs the TKR for both knees.
We are told that post surgery Ice fomenting is required and so WINTER is NOT a good time for surgery .
While we also feel that in winter infection is low. We need to consider both aspects .
Can somebody advise about the most appropriate time for TKR??
==
We decided to get the surgery done for my mother in winter as we were more worried about infection rather than the discomfort of ice fomenting. Also, since the beginning Dr Rajgopal has mentioned that there is serious risk of infection (because of this he does not allow visitors to see the patient after operation for around 24 hours), that is why infection was the top most concern for us.
==
My mother required to go for TKR as by now we were consulting Dr. sanjeev Kapoor in indian spinal injury center , he used to inject some thing every 3 months or so which used to give releif for some time. but as it is used since last three years so i feel it is of no use know and Dr. also recomended for tkr, Before going to Dr. Rajshekher in Medanta you might have consulted some other also please share your experience.
==
We have consulted Dr in Bangalore and Lucknow before deciding to go for TKR. As all of them have recommended the operation we went ahead with it.
==
it is ok but in delhi it self there are some good Dr like Dr malviya in ISIC, Dr Bhan in primus and many more in Max etc, what parameters helped you to finalize on Dr. Raj gopal even some persons have complained that he does not answer the query properly.
==
kumar the primary reason was that some of our acquaintances had a good experience (in terms of no complication, fast recovery etc) at Medanta under Dr Rajgopal. He may not be very good in communication but he is definitely good at his work.
==
Hi Looking for good doctors for TKR of my mother. Heard Dr Rajgopal has a failure rate of ~ 30%. How is Dr J Maheshwari? Malvya and Sanjeev Marya. Would appreciate if some one has done good search can guide me
==
What's the cost of both knee replacement surgery using zirconian knee implants, in delhi/ncr. And which hospital/doctor specializes in this. How long does the recovery process take?
==
Don't know about Zirconian implants but the recovery takes around 6 months to recover fully. By about one week from operation the patient can walk around the house with the help of walker on their own.
==
I am 72. My knee surgery is on 29th March
I want to know the pain will last for how many days
I have heard from some people that single knee surgery is not very successful
Please enlighten
==
Pl do not worry, my mother had her two knees replaced one at a time, with a gap of around 3 years. She faced no problem at all. Success rate of the operation depends on the skills of the Dr and his team.
All the best for your surgery. Pl share your experience with others on this community after your surgery.
==
my mom also needs to get done TkR surgery, and have heard a lot about Dr. raja gopal. i am pretty content after reading reviews about the doctor, hospital and staff however i have read quite a bad reviews as well about Dr. Raja Gopal that he is rude, insensitive and arrogant, does not talk much about the issue, and people have recommended to not to go to him? i am little worried now if that is the case then how will i clarify all my doubts and questions since the does not speak much??
==
Yes I can understand the confusion, we also were struggling with the same doubts. However, for us the skills and reputation were more important than the communication skills. That is what made us decide in Dr Rajgopal's favor.
==
I'm planning to go Medanta for my dad's knee replacement. I was in ambiguity and selected a hospital in Chennai, however in the main time before leaving for Chennai, our mind swinged and we decided for Medanta.
When I call, I was also suggested for Dr. Ashok Raj Gopal Ji. By hearing your feedback, I'm confident and very positive too.
I will also share my experience post operation. I has been told the cost is 3 Lkh however final can say post see of patient. I really thank full for your comments here. I am sure it would have helped and make positive lots of people..
==
This is a great forum... Infact, I have been consulting with doctors in Gurgaon for my mother's knee replacement for a while now. While I am still awaiting an appointment from Dr. Rajagopalachari ( heard he now operates at Fortis); I have had shown my mother to Dr Anurag Awasthi ( Associated with Artemis, Pratiksha etc) last month. Would really appreciate if anyone has any past experience with him. He came across as very professional yet quite hospitable and kind.
Another doctor that I wanted to consult was Dr Bhushan Nariani @ Indian Spinal. Any reviews on the doctor & the hospital set up??
==
MY 2 CENTS ON KNEE REPLACEMENT
I recently got bilateral total knee replacement ( B-TKR) done for my mother at Max Super-speciality Saket, under Dr. SKS Marya.
While collating information regarding knee replacement in India i came across this thread and found it to be immensely useful. Through this post i want to ease the trauma for information seekers, by presenting a clear picture of my experience.
4 things are most important when choosing hospital for knee replacement :smile:
a) The experience of the surgeon and his team,
b) The implant used and surgeons comfort level with implant
c) post operative pain management
d) physiotherapy
a) Experience of surgeon :
Many good surgeons exist in metros ,specially delhi , bombay and chennai. I was looking at delhi as i did not have any support structure in other cities. Options before me included Dr Ashok Rajgopal ( Medanta), Dr SKS Marya( Max Saket), and others. After collecting a lot( i mean a lot) of feedback on ground from former patients ( i had a chat with about 8 patients from medanta, and 6 from Max, 3 from AIIMS, 2 from Artemis, 4 from fortis, over a period of 3 months through my contacts, i zeroed in on Dr marya @ Max hospital Saket. TO be frank at the level these surgeons operate skill is same , people choose them for their personal considerations of faith, convenience and personal contacts.
Feedback about Dr SKS Marya : very gentle person, understanding and willing to listen to you ( and not in a hurry to judge you or to force you into an option.
Dr. Marya Has a great team and in sofar i have inquired i have not heard of single botched up operation on his part. His team was very professional as well. He has been doing knee replacement surgeries for about 20-25 years now and is a master of his trade. He also has great support infrastructure at Max superspeciality saket.
P.S : Ending August 2016, Dr. SKS Marya is shifting to Medanta .
b) Implant used are of 2-3 broad types : 1) CO-CR : is the mainstream implant which is the standard for knee replacement surgery for about 10-15 years now. This implant is a workhorse and accounts for about 97 % of knee implants in India. This is the only implant which is approved when you opt for treatment by insurance. This is the favourite implant of surgeons in India for most of the cases as they are comfortable using it ( for many years now) and are well verse with contingencies and post operative implications related to it.[ cost = 87500 per knee]
2) ATTUNE : this is a advanced version of knee implant COCR manufactured by DePuy ( a subsidiary of Johnson & Johnson) . Theoretically it has longer life and more lateral movements than COCR implants. BUT since it has been launched only in 2014, so not much data-points are available for corroborating its claims .[cost= 2,62,000 per knee
3) PERSONA : this a knee implant that competes with attune knee. theoretically almost the same to attune knee ( from a patients perspective), and also equally unproved. Patients who have had them cannot differentiate much between them and nonrmal COCR implants.[cost= 2 lacs +]
c)Pain management post operation : pain is the biggest devil post operation . in my mothers case pain was managed really well. She was speaking to us 2 hours after surgery and wasn't feeling any significant pain, just the weakness from empty stomach and drowsiness from anaesthesia. For the remainder of the stay in hospital she didn't feel much pain either.She did not have any other problems like diabetes, hypertension, or blood pressure priorly. The nursing staff was good, but then you have to keep chasing them , or they take you for granted.
d) physiotherapy : 22 hours after surgery my mother bent her knee for the first time.It was very painful, but with great pain comes good recovery. After that she actively started walking twice a day using walker and since discharge a physiotherapist visits us and the progress has been real good.
Some other points :
a) insurance : preference order of hospitals for insurance is - corporate mediclaim> CGHS>Individual insurance.
In my case it was corporate mediclaim, so my mother lived in a single room with great facilities and after 7 days of hospital stay i paid about 10k only(Surgery and implants included), rest was borne by my insurance company.
Feel free to question and comment.
==
this is great information that you have shared. Very well researched and expressed. I'm sure many people looking for knee replacement info will find this super useful.
==
My GrandMother is suffering from severe Knee Pain.
She can barely walk. There is inflammation around her knee . I took her to doctor and he advised me for Knee replacement.
My Grandmother is of 75 plus.
will it be fine for her if she will go for knee replacement at this age?
==
Knee replacement is a major operation and takes a long time to recover.
Your grandmothers general health should be good to be able to undergo this operation. You should take opinion of a general physician to understand about the readiness of your grand mother for this operation.
==
I recommend Dr Anurag Awasthi as one of the best Orthopedic surgeon in Gurgaon. He operated on my mother for Knee replacement for both knee joints. She had some heart problem, so operation done one by one. Its been 3 yr now, and she is very much comfortable.
==
For my mother i'm researching about Total Knee replacement.... there are many hospitals with famous doctors in Delhi, Chennai... after gone through many browsing i've narrowed my preference with Dr. Anil Arora in Max Patparganj and with Dr. Lenin C in Apollo Chennai....how are ur recommendations..??? do u know for 1 knee how much cost will needed...??
==
Max Balaji hospital Patparganj cost of single knee replacement is approx 1lakh 55 thousand. You can heck this cost of this hospital and other Delhi hospital at below link.
Apollo hospital chennai cost for single knee replacement is around 2 lakh 10 thousand. You can check this and other cost of Chennai hospital at below link.
==
hey thanks... but i think cost will be more than quoted there for 1 knee.... i think on average $5000 will be needed...... by the way I'm from Bangladesh..there are many hospital and centers for Knee replacement..i at first dropped the centers for this...becs for a major operation a full-fledged hospital is better... 5/6 best hospitals r there in Delhi...in Chennai lso 2/3 hospitals r best...but i narrowed down 2 doctors, Prof. Anil Arora and Dr. Lenin C....becs my preference is ofcourse Computer navigation is a must and if possible Minimally Invasive Surgery.... on the basis of these 2 criteria i assumed they wud be better.. Dr Ashok Rajgopal frm Fortis, Yash Gulati frm Apollo delhi lso there who regularly use Computer Navigation...but i prefer celebrity doctors less becs of their constraint time for patient... on other hand Dr SKS Marya frm Medanta is an excellent doctor but i didnt find info from web-browsing that he's practicing Computer Navigation... otherwise some acclaimed senior Professors r there in your country who r still practicing like In Sir Ganga Ram hospital, Primus...but the same point i like to have Computer Navigation in surgery....so these r factors i considered.... but as a foreign patient with couple of attendants our cost will be more...
==
I am planning to get my mother operated at Medanta for knee replacement. From what i understand is we need to stay for minimum 22 days. So wanted to know if someone can help me with any accommodation facility available near the hospital area. Thanks in advance.
==
Hello Folks , We have heard that Dr Rajgopal now does not do surgeries at Medanta any more. Can any one tell where does he do surgery now and how much cost will be for total knee replacement for both the knees for 65 year old female. Please share any recent experience and recent cost of surgery.
==
Yes Dr Rajgopal goes to Fortis Escort and Fortis Gurgaon now. My mother got operated and its been two months . I just shared my experience .
==
Hello all ..I am writing after a long time . I have something good to share. My mom finally got operated.
I finally got my mom's surgery done at Fortis Escort. It's almost 2 months now. She is doing perfectly fine. Dr Rajgopal did her surgery .Hospital asked us to submit 5.5 lakhs . Which we made a bank transfer 2 days before my mom's admission to the hospital . My mother Got admitted on Monday morning around 10.00 AM and on the same day they perform certain tests . All her tests were ok. She had her surgery on tuesday ( 9: 30 AM). She said she was taken in the operation room and one green curtain was put in front of her and they gave a injection on the back of her after which she kind of slept and when the made her awake her operation was over. After her surgery she was in the ICU for 24 hrs and after that she has been shifted to the room.
She was happy with the nurse's care . Not very happy with food though. They made her walk on 4th day and on sunday she was finally released from the hospital. Overall cost for both knee replace was around 5 lakhs and 39 thousands rupees and rest of the money ( 11 thousand) had been returned to us.
After returning to home we got her the walker and also we got her the toilet seat ( She needed this as both her knee were operated and she needed minimum height of toilet seat )
She had 10 physiotherapy session provided by hospital on alternate days except the holidays. Physiotherapist used to teach exercise and helped her to walk in a right way.
My mother used to limp but by GOD grace she is totally fine now. Its only two months . She has occasional bouts of pain but overall she is doing fine. She is no more using walker . And she goes for a outside walk twice.
==
My mother is equipped with Pacemaker. Is knee replacement is possible / safe for her? If yes what will be the cost of total knee replacement .How many days patient is hospitalized and how many days patient can walk.
==
My mother in law had pacemaker surgery in the year 2010 May and she got her total knee replacement ( one knee) in the year 2012 Oct ) . So yes it is possible and safe . Last year in 2017 November ( around 3 months back) she got her other knee replaced as well. So overall 2 surgery after pacemaker implantation. She is in her early seventies now.
But I guess you will have to consult doctor and only doctor can advice depending on her situation. One thing you should also take care while choosing the hospital is that Hospital should have good cardiology department along with the ortho department to handle any situations.
Overall 7 days are needed in the hospital . Normally they make patient walk before releasing the patient. Patient has to walk after 8 days . Physiotherapist will come to train the patient.
Hope this information helps you.
Wishing your mother a good health. Do let me know if you want to know anything else.
==
Does anybody here has experience of knee surgery by Medanta Dr.Marya? If yes then kindly share . Thanks in advance.
==
Could anyone share their experience with getting an older parent or relative (> 80 years) getting TKR. Where and by who was surgery done and how were the experience and outcomes.
Any advice and information would be greatly appreciated
==
HI , Can anyone here solve my query regarding the insurance. As I have a medical policy of 4 yrs old can knee replacement will cover in mediclaim.
Thanks in advance.
==
The toal knee replacement cost starts from 1Lakhs to 2 Lakhs and it varies from city to city.
At Bone and joint Care
The total cost of knee replacement surgery @Rs.99,000* .
There are various Latest International Standard Knee Replacement Techniques are there so success rate is on peak.
You can go through
Painless & Minimal-Stitch Knee Replacement Surgery
Golden Knee Replacement Surgery
Partial Knee Replacement Surgery
Unicompartmental Knee Replacement Surgery
For any details or for any query call on 022 2569 0799 , 093 2062 0978
==
My father is 79 years old suffering from Grade 4 Arthritis of knee. He went to Dr Sanjeev kapoor . Dr Kapoor pulled water and given injections but of no use now advised my father to go for knee transplant . My father had stent in 2015 . Is it safe to go for knee transplant at this age ?
Kindly suggest as per your experience.
==
There is one experience. Which I would like to share with you all. I am writing this review from hospital "Max smart saket"
Kindly do not get knee replacements from Dr. Ramneek Mahajan. He is worst doctor for this work, every word which he says before surgery is falls. After operation he will be different personality, you have to face heavy pains due to surgery and no benefits you will find in your knee. He will just keep saying that operation is successful.
Why I am writing all story just to relate my mistake. Which I have done in past. I met Dr. ashok Rajgopal for the same he is a person who speak less as he believes in work rather than explaining fake commitments but now I am checking the experience of Dr. ashok rajgopal's patients and I got to know that they are really very happy. So therefore kindly do not love the nature of doctors just check their success % as it will help you in your surgeries. People of fake commitments will always tell you sweet things which you will not get, there will be different scenario and you will have nothing after surgery.
100 marks to Dr. Ashok Rajgopal
==
I have meniscus tear of right knee.
Does anyone know if Dr Ashok rajgopal do arthroscopic surgery?
==
A humble request to you all ..enough information is there in public domain please do due research. remember ...NO HARM IN ASKING 100 Questions...its your money...its your dear ones life ..you have all right. PLease feel free to reach out to the community here , including myself. Well share our insights with yourselves as well. SO ask freely !! cheers
==
This is a great forum. I have read all of it and it is helpful.
My question is: I wanted to go with Dr. Ashok Rajgopal for knee replacement of my mother (
60yrs). At this forum and other I have read that Dr. Rajgopal is rude. Should I still go to him given his expertise? Is he cooperative post the operation? Thanks. Raj
==
Its been a year for my mother's surgery now. She is doing perfectly fine. She got her both knee operated . I have shared my experience in one of the posts here. Please go through that to know what all you can expect out of this process. Wishing your mother good luck!
Note: This information has taken from a trusted health forum, we are sharing this only for educational purpose.
This article was last updated on July 06, 2020
Related articles:
Recommended topics in:
Patient Experience