Unveiling the Myth and Embracing the Truth
There's a pervasive myth in the world of fitness that weight lifting and strength training exact a toll on our knees, potentially leading to long-term harm. It's a concern that often makes many people wary of engaging in strength training exercises. However, recent research has shattered this misconception, revealing compelling evidence that regular strength training is not the villain—it's the unsung hero that protects our knees and wards off the looming specter of osteoarthritis.
This revelation stems from a study that delved into the lives of 2,607 individuals, a diverse group where 44% were men. These individuals shared a common thread: they were all overweight, and it's a factor that can potentially exert more pressure on the knees due to increased body weight.
The study divided them into two categories: those who abstained from strength training exercises and those who embraced regular strength training as a part of their routine. These categories set the stage for a revelatory insight into the impact of strength training on knee health.
The Compelling Verdict
The results of the study were nothing short of astonishing. Those who committed to regular strength training enjoyed a remarkable 17-23% lower incidence of knee pain and knee osteoarthritis. In essence, the very activity that was once deemed a threat to knee health emerged as the knight in shining armor, fortifying our knees and shielding them from the grip of osteoarthritis.
Strength Training: A Guardian of Knee Health
The findings of this research resoundingly advocate for the inclusion of strength training in our lives. Far from being detrimental, it proves to be a potent elixir for preserving the longevity and resilience of our knees. Here's why strength training emerges as a stalwart guardian of knee health:
Strengthening the Support System: Our knees bear the onus of our body weight daily. Engaging in strength training helps build muscle strength, particularly around the knee joint. This enhanced muscle support acts as a cushion, reducing the load on the knee joint, and preventing undue wear and tear.
Promoting Joint Stability: The exercises involved in strength training contribute to improved joint stability. Stronger muscles surrounding the knees enhance the ability to stabilize the joint, reducing the likelihood of injuries and pain.
Counteracting Osteoarthritis: Osteoarthritis, a degenerative joint disease, is a formidable adversary. Yet, strength training has shown its mettle in mitigating this risk. By fostering robust muscles and ensuring the smooth functioning of the knee joint, it acts as a robust shield against osteoarthritis.
A Paradigm Shift
The findings from this research mark a pivotal moment in the world of fitness and knee health. They call for a paradigm shift—one that encourages individuals, especially those who are overweight, to embrace strength training as a means to bolster their knee health.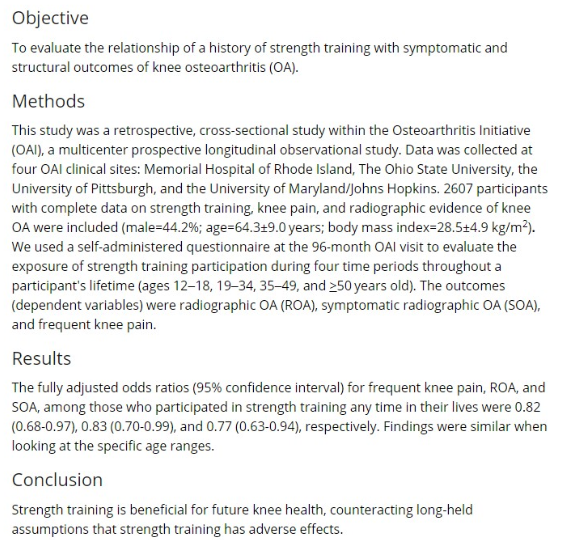 Note: Reference link provided below.
It's crucial to remember that the benefits of strength training extend far beyond knee health. It encompasses the holistic betterment of one's physical well-being. To embark on this journey,
consider the following steps:
Consult a Professional: Before commencing any exercise routine, especially strength training, it's advisable to seek guidance from a fitness professional or physical therapist. They can tailor an exercise program to suit your specific needs and health status.
Gradual Progression: Like any form of exercise, start slowly and gradually increase the intensity and weight as your body adapts. This approach minimizes the risk of overexertion and injury.
Diversify Your Routine: Strength training encompasses a wide array of exercises, from bodyweight exercises to weight lifting. Diversify your routine to target different muscle groups and ensure comprehensive development.
Listen to Your Body: Pay attention to your body's signals. If you experience pain or discomfort during an exercise, it's essential to stop and consult a professional to address the issue.
Consistency is Key: The benefits of strength training unfurl with consistent effort. Make it a regular part of your routine to reap the long-term rewards.
Is it possible for individuals in their 50s or 60s, especially those experiencing knee pain, to initiate strength training? Many people in this age group face this challenge.
Incorporating various exercises into their routine can be highly beneficial for individuals with knee pain. A well-rounded approach might consist of activities like cycling, walking, stretching, and muscle-strengthening exercises, ideally performed under the supervision of a physiotherapist.
In conclusion, the myth that strength training is detrimental to knee health has been unequivocally debunked. Embrace the strength training journey and fortify your knees, safeguarding their health for years to come. The future of your knee health can be a powerful one—with strength training as the protector of your joint's longevity.
This article was last updated on November 03, 2023
Related articles:
Recommended topics in:
Others