Health insurance has emerged as a crucial safety net for both people and families in the uncertain world of today. The story of Sourav Das, who wisely invested in a health insurance policy at the age of 23, demonstrates the importance of being prepared for unforeseen health emergencies. His decision to go with a health insurance plan that seemed affordable ultimately proved to be a wise one. Over the years, this policy not only helped him manage his own medical expenses but also proved invaluable when his wife faced a medical condition that required immediate attention. Because the insurance covered their financial concerns, they could concentrate on getting better rather than worrying about rising medical expenses.
The importance of leading a healthy lifestyle has increased in the wake of the COVID-19 pandemic. The epidemic has increased public awareness of health issues and highlighted the importance of having a comprehensive health insurance plan. Now is the perfect moment to get an affordable medical insurance plan or review your current one while the potential of pandemics persists.
In India, health insurance plans provide protection against escalating medical expenditures. These insurance plans pay for a variety of medical costs, including hospitalization, treatments, prescription drugs, and dental work. The rising expense of healthcare has led many people to look for affordable health insurance plans.
The correct health insurance plan should be selected after carefully weighing several criteria. The claims procedure is important because it affects how quickly and effectively the insurance provider handles your medical needs. For prompt and trouble-free payments, a smooth claims process is necessary.
The amount of coverage offered by the health insurance policy should also be considered. It's important to match the coverage to your healthcare demands and financial capacities because different plans offer different degrees of coverage.
The majority of health insurance providers offer lifetime renewal, which is a useful feature. With the help of this feature, you may renew your policy yearly without paying any additional fees, giving you continued peace of mind.
In order for your health insurance policy to be effective, network hospitals are essential. Making sure the network includes all the major hospitals in your area might speed up emergency medical assistance.
Best Health Insurance Policies in India
Max Bupa Health Companion Plan: This comprehensive plan offers a range of coverage options tailored to individual and family needs. With variants covering sums insured from Rs. 2 lakhs to Rs. 1 crore, it provides flexibility and security.
Apollo Munich Optima Restore Health: Optima Restore boasts a restore benefit that replenishes the sum insured if exhausted by a family member. This plan covers pre-hospitalization, post-hospitalization, and offers worldwide emergency coverage. Apollo Munich Maxima is a popular health plan.
Cigna TTK ProHealth Plus: Cigna TTK ProHealth Plus provides extensive coverage with options for sums insured from Rs. 4.5 lakhs to Rs. 10 lakhs. It includes pre-hospitalization and post-hospitalization cover, as well as global emergency coverage.
Royal Sundaram Health Lifeline Supreme: This plan features comprehensive coverage options ranging from Rs. 5 lakhs to Rs. 50 lakhs. It covers pre-hospitalization, post-hospitalization, and offers a no-claim bonus upon renewal.
Aditya Birla Active Assure Diamond Plan: With the unique reload feature, this plan restores the sum insured if exhausted, allowing up to 150% additional sum insured. It covers pre-hospitalization, post-hospitalization, and offers second opinion coverage.
Max Bupa Heartbeat Health Insurance: Max Bupa Heartbeat Health Insurance offers a wide range of coverage options with sums insured ranging from Rs. 2 lakhs to Rs. 3 crores. It covers in-patient hospitalization, pre-hospitalization, post-hospitalization, and day care treatments.
Religare Care Health Insurance: Religare Care Health Insurance offers coverage options from Rs. 4 lakhs to Rs. 6 crores. It covers in-patient hospitalization, pre-hospitalization, post-hospitalization, and organ donor expenses.
Star Family Health Optima Plan: This plan offers a family floater option with sums insured ranging from Rs. 1 lakh to Rs. 25 lakhs. It covers hospitalization expenses, pre-hospitalization, post-hospitalization, and day care treatments.
New India Assurance Senior Citizen Mediclaim Policy: Designed for senior citizens, this plan offers coverage from Rs. 1 lakh to Rs. 1.5 lakhs. It covers hospitalization expenses, pre-existing diseases after a waiting period, and domiciliary hospitalization.
HDFC ERGO Health Suraksha Gold Plan: This plan provides coverage options from Rs. 3 lakhs to Rs. 20 lakhs. It covers in-patient hospitalization, pre-hospitalization, post-hospitalization, and maternity expenses.
ICICI Lombard
Health Insurance
ICICI Lombard Complete Health Insurance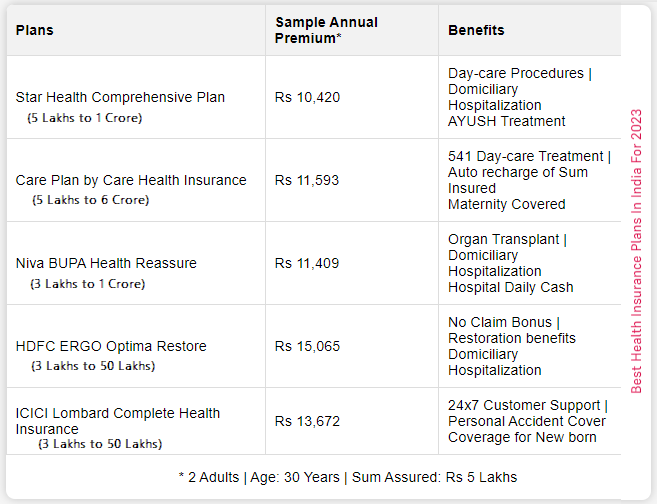 Choosing the Right Plan
Consider the claim procedure, insurance coverage, lifetime renewal, and network of hospitals when selecting a health insurance plan. Knowing these things will enable you to choose a policy that best meets your needs and budget and to make an informed selection.
Health insurance acts as a financial buffer in a society where medical costs are unpredictably high. Pick a plan that fits your needs and priorities because everyone has different healthcare demands.
Essential Tips for Choosing the Most Affordable Health Insurance Policy in India
A cheap health insurance policy is a wise investment when it comes to safeguarding your health and financial security. The correct health insurance plan should be selected after thorough consideration and knowledge of the available possibilities, just like any other financial decision. Here are seven crucial guidelines to assist you in selecting the most cost-efficient and practical health insurance plan available in India:
Benefit of Recovery for Family Plans:
Choose a coverage with a recovery benefit, especially if you have a family health insurance plan. This feature makes sure that if one family member uses up the total amount insured throughout the policy's term, the remaining family members will still be covered. This ensures that everyone covered by the policy has ongoing coverage, even if several family members need hospitalization during the same calendar year.
Supplements for Complete Coverage:
Significant milestones in life frequently involve greater responsibility. In such circumstances, take into account policies that permit top-ups or expansions to your current coverage. The opportunity to increase your coverage makes sure that your policy changes to meet your changing needs, whether that change is due to getting married, having children, or inheriting wealth.
Long-Term Benefits No-Claim Bonuses:
Look for insurances that provide enticing no-claims benefits. You can benefit from reduced premiums or other awards if you avoid filing any claims throughout the policy year. Long-term savings can be achieved by selecting a policy with considerable no-claim bonuses.
Cash Allotment for Personal Expenses:
Standard health insurance coverage don't typically cover many medical costs, including those associated with outpatient department (OPD), doctor visits, and prescription fees. Choose a coverage that offers a daily cash benefit in the event of a hospital admission. This payment aids in defraying out-of-pocket costs related to your hospital stay.
Home Health Care Coverage
Policies that pay for home treatment costs are more crucial during exceptional times like the COVID-19 outbreak. Make sure your insurance covers home care or telehealth services so you can obtain critical medical attention when hospital resources are scarce.
Programs for Holistic Wellness:
Wellness programs geared toward enhancing policyholders' general wellbeing are frequently included in contemporary health insurance policies. These programs give discounts on coverage renewals, rebates, reward points, and other benefits. Yoga, meditation, and exercise courses are just a few examples of hobbies that keep you healthy and lower your risk of making expensive claims.
AYUSH treatment inclusion:
Investigate the policies that cover AYUSH (alternative medicine, yoga, naturopathy, unani, siddha, and homeopathy) treatments. Having insurance coverage for these procedures can give you access to holistic healthcare options as alternative medicine becomes more and more popular.
Keep in mind that cheaper premiums are guaranteed when health insurance is purchased early in life. You can locate the best policy, amount of coverage, and features catered to your age, lifestyle, and particular needs by speaking with specialists or using tools like
Policybazar
,
insurancedekho
, or
PayBima
. You may choose an affordable health insurance plan that protects your wellbeing and financial security by carefully taking into account these suggestions.
Disclaimer: This post is solely meant to provide information. It does not represent advise on finances or health. It is advised to speak with a knowledgeable insurance agent and carefully research the terms and conditions of any potential health insurance policy before making a purchase.
This article was last updated on August 23, 2023
Related articles:
Recommended topics in:
Others